Early Bird Plus Draw Prizes (So far…$5600+ in prizes!) 
All winners will be announced on our Facebook Page each draw date, notified by email and listed below.
---
$333 – VAinsiders Yearly Membership (Qty: 2)
DRAW DATE: April 20th, 2018 by MIDNIGHT, PST (Vancouver, Canada)
WINNER: Cheryl Rudy
DRAW DATE: April 21st, 2018 by NOON, PST (Vancouver, Canada)
WINNER: Lisa Hamar
The all-in-one training resource for Virtual Assistants to make your VA business ROCK and start making money right away!

You name it we have all the business resources on the inside that you've been wanting! We have a busy job board, group coaching, monthly motivators, networking with members in our private forum, monthly webinar training, member perks plus our training VAult stocked full of resources like business templates, seminar archives, system sheets, eBooks and other bonus resources. All these training resources are at the click of your mouse ready for you to learn whatever your heart desires quickly and easily.
Not on the inside yet? What are you waiting for? LEARN MORE
---
$997 – Virtual Assistant Career Training Program
DRAW DATE: April 21, 2018 by MIDNIGHT, PST (Vancouver, Canada)
WINNER: Monica Rojas
This globally proven, acclaimed business startup system and instruction by The VA Expert, Tawnya Sutherland, is designed specifically to get your Virtual Assistant Career started easily, quickly, without the stress of doing it from scratch in just 30 days. The VAC 30 Day Module Online Training Center will help your business grow each and every day. The online modules are set up for your 30-day journey that will steer you to your dream: Your own Virtual Assistant business.
Also includes business templates, contracts, video training, system sheets, coaching, VAinsider.com membership and your website design/hosting/domain for one year, access to our job board plus so much more!
Learn all about the VAC plus download our Virtual Assistant Startup Checklist CLICK HERE
---
$348 (Qty. 2) – Adminja Pro account for 1 year
DRAW DATE: During Event
WINNERS: Melody Willet and Dominque Dabolczi-Fekete
Client management system for Virtual Assistants. Clients, Tasks, Time and Billing in one, safe, central location. Winners will receive an Adminja Pro account for one year.
Learn all about the this client management system for VAs… Sign up for FREE!
---
$297 – Master the Launch: Low-Tech, High Profit Training Program
DRAW DATE: May 6th, 2018
WINNER: James Edgar
Discover how to easily and quickly master OptimizePress and WP Affiliate (the two quickest and easiest platforms to get JV Ready fast if you are budget conscious).
Learn all Gina Decker's program… CLICK HERE
---
$240 – WordPress Protection Package for 1 year
DRAW DATE: April 25th, 2018
WINNER: Danielle Lee
Let me keep up and secure your website so you can focus on your client work. Done for you WordPress, plugin, and theme updates twice a week. Plus daily backups and twice a week malware scans and cleanup. Winner will receive one year protection for one website.
Learn more about Kimberly Charron at here website… CLICK HERE
---
Want to WIN one of our $$$ Early Bird prizes?
Get Your Ticket Today!
$300 – One 90 minute Blogging Intensive
DRAW DATE: May 6th, 2018
WINNER: Penney Simmons
Held via Zoom, this 90-minute call will help you analyze your blogging strategy. We will evaluate your current blogging efforts, discuss ways to improve the content you already have, build a strategic plan for your future blogs, and discover ways for you to improve your ROI through consistent blogging. You will walk away with a complete strategy for weekly, monthly, quarterly, and yearly blogging that will skyrocket your business's potential. Includes a full recap and strategic review sent after the session that you will be able to use to keep your blogging on track for months to come.
Learn all about Liz Woodiwiss at her website… CLICK HERE
---
$9.97 – Become A Procedures Pro: The Admin's Guide to Developing Effective Office Systems and Procedures
DRAW DATE: May 6th, 2018
WINNER:  Pamela Atkins
Readers of Become a Procedures Pro™ will learn to develop effective office systems and procedures. The book is dedicated to all of the organized, innovative administrative professionals who put forth the effort and time into creating effective systems and procedures to keep their offices running smoothly. Melissa St. Clair, owner of Paper Chaser, is pleased to share her success story in Julie Perrine's book, Become a Procedures Pro™.
Learn all about Melissa at her website… CLICK HERE
---
$16.95 (Qty 2) – Book: 102 Tips, Tricks, and Tactics to be the Best Executive Assistant
DRAW DATE: May 6th, 2018
WINNER: Lisa Lansing and Rena Mahaffey
Includes two bonus sections with Website Resources and Checklists. The administrative field has so many different titles and varied job responsibilities, and although this book refers to an executive assistant the most, anyone in the administrative field can find this book useful. In this book, Penney shares her 30 plus years of administrative experience to help those who are new to the administrative field to avoid the challenges she faced when she was new to her career. If you are new to the field, you will find this book to be an invaluable resource. If you have been in the administrative field for a while, it will be a great refresher and may give you new tips and tricks to try.
Learn all about Penney's lastest book… CLICK HERE
---
$99 – One ticket to OIVAC 2018
DRAW DATE: May 6th, 2018
WINNER: Patricia Marcero
Ticket to International Virtual Assistants Convention (OIVAC 2018), scheduled for May 17-19, 2018. OIVAC is the VA industry's annual convention, with 30 webinars, International Virtual Assistants Day Celebration, VA Hot Seat, Seasoned VA Panels, Networking and Country Spotlights – Australia, China, Philippines and UAE. This international convention runs 16 hours a day – 8 a.m. to 12 midnight each day with education, training and collaboration for VAs located around the globe..
Learn more at… CLICK HERE
---
$979 – Virtual 4-Hour Intensive
DRAW DATE: May 6th, 2018
WINNER: Kathrine Barnes
Brain Spin….Too many ideas swirling around in your head? You want to grow your business but aren't sure which direction to go, what products or services to focus on and feeling completely overwhelmed when trying to figure it out? Let me work with you during a 4-hour intensive to sort it all out and create an actionable plan. This package also includes 90 days of access to me via email for questions, guidance and support. At the end of the 90 days, we will do one final 30 minute strategy session to review your success and discuss any additional challenges. Agenda for virtual session: Hour 1 – Birds Eye View Where do you want your business to be in 12 months? How do you plan on getting there? Let's get a firm bird's eye view of where you are going. Hour 2 – Branding and Your Voice To attract the right clients, we must make sure we are speaking to them directly. We will look at your company branding and the voice you are using across all platforms and make sure it's consistent. Break – 45 minutes Hour 3 – Marketing & Lead Generation You must have clients to keep in business! Filling your pipeline is crucial to keep your business alive and healthy. We'll develop a well laid out strategy to get clients anxious to work with you. Hour 4 – Review Action Plans To make all this awesomeness happen, you need a well designed, 90-day plan to get yourself moving forward. We'll create action steps and tasks to ensure your success.
Learn more at… CLICK HERE
---
$170 – 5 Hours of Virtual Assistance
DRAW DATE: May 6th, 2018
WINNER: Beth Kunkle
You'll receive a 5 hour monthly retainer to utilize Vanessa Leigh Cortez's virtual assistant services. She helps established businesses,  female owners breathe again. Let's face it there comes a point in every business that takes off and then you may feel as if you can't do it on your own. Everyone could use an extra pair of hands or someone who can take on whatever she feels comfortable delegating to a clever, resourceful assistant.
Learn more at… CLICK HERE
---
$17 – New Client Process Guide
DRAW DATE: May 6th, 2018
WINNER: Belinda Mikel
Get Alicia Jay's step-by-step process, complete with templates and worksheets. This guide will take you through the process of having a client consultation call, signing on a new client and welcoming them.
Learn more at… CLICK HERE
---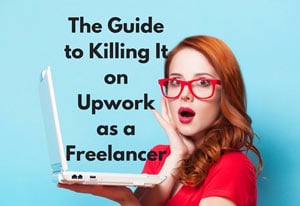 $197 – Guide to Killing it on Upwork as a Freelancer
DRAW DATE: May 6th, 2018
WINNER: Kimee Dohert
The Guide to Killing It on Upwork is a unique marketing course for freelancers to make more money on the world's largest and most effective job site. As a six-figure freelancer on the site for years, Laura put together all her best tips and strategies in one course- from searching for the right jobs, asking for feedback and building your reputation, how to easily land your first job, and pitching strategies that convert.
Learn more at… CLICK HERE
---
$85 (QTY. 2) – 1 hour VA or PR Coaching
DRAW DATE: May 6th, 2018
WINNER: Marshall Wile and Jennifer Johnson
Diana Ennem is a leader in the PR and VA Industry, She is the one to turn to when your books or products aren't selling or the lack of clients is hampering your business success. Her proven marketing and coaching techniques will get you where you need to be and FAST!
Learn more about Diana at her website… CLICK HERE
---
$444 – Laptop Lifestyle Business Club: One Year Membership
DRAW DATE: May 6th, 2018
WINNER: Marit Fox
Members of the LLBC are ready to take their business up a notch. When you join the club you are joining a group that will inspire, train and motivate you to build passive and recurring income into your business so that you can achieve complete and total lifestyle freedom. This is about having the choice to work with that client, if you WANT to, not because you have to. This is about being free to take the day off if you're sick or your kids are sick, because you need to. This is about not filling your hours with work but more about filling your days with the things you enjoy. It's entirely possible!
On the practical side, you'll get an easy to complete 10-Day, Fast-Action Challenge each month, weekly member meetings that are fun and helpful, and a busy, active, friendly and supportive group that is there to help you figure out how to free your time and leverage it to earn more.
Learn More About the Club by CLICKING HERE
---
$97 –

Canva Training Program
DRAW DATE: May 6th, 2018
WINNER: Kristi Crane
Most people struggle trying to learn systems and tools like Canva, but the reality is… having someone show you the way is a more efficient and effective way to learn.  Canva has so many benefits and once you understand the system, it is very easy to use.  Let Kathy show you how!
Learn more at Kathy's her website… CLICK HERE
---
$67 –

Blogging Basics For Business Program
DRAW DATE: May 6th, 2018
WINNER: Victoria Patterson
Blogging Basics is a Self Study Program that will teach you how to Write and Format a Blog so it WORKS for your BUSINESS!
This Self Study program, led by Kathy Colaiacovo, an Online Marketing and Social Media Specialist… will show you the exact steps to be more effective with your blogs.
Learn more at Kathy's her website… CLICK HERE
---
$67 –

SEO Basics for Business Course
DRAW DATE: May 6th, 2018
WINNER: Ronda Theaker
SEO Basics for Business will teach you to:
Explore Keywords and how they are vital to your Website and Marketing Content
Discover where SEO is missing on your own Website Pages
Identify the Optimal Places to add SEO to your Website
Implement an SEO Checklist for your Website Pages and Blogs
Understand how the lessons can apply to your Social Media Content as well
Follow along as we review a website live, so you can further comprehend the lessons
Explain these SEO Lessons so you can tell your Website Designer what you need done
Learn more at Kathy's her website… CLICK HERE
---
$27 (QTY. 3) – Social Media Planner & Calendar
DRAW DATE: April 25th, 2018
WINNERS: Julie Rosenthal, Sue Harrawood, Georgia A Allen
Clearly, social media is a marketing method we all need to pay attention to. But if you've ever tried to put the power of social media to work for your business and then not seen the results you wanted, you probably figured out pretty quickly that without a plan, it's easy to flounder around and not really achieve anything. You can make it easier on yourself by using this social media planner. You get a 17-page step-by-step planner and editable monthly social media calendar.
Learn more about this product at Lisa's website… CLICK HERE
---
$97 – Exceptional Subcontractors e-course
DRAW DATE: May 6th, 2018
WINNER: Melissa Ferguson
Whether you've considered becoming a sub-contractor for an established team or are hearing about subcontracting for the first time this course may be the answer you've been searching for! Exceptional Subcontractors can help you create the business presence and income you deserve.
The Exceptional Subcontractors course includes 7 modules taught by veteran VAs and senior leaders in their fields of expertise. From team communication, to accountability, problem solving and customer service and follow through, this course teaches you everything you need to know to be a sought after subcontractor for top VA teams.
Learn more about this product at Sue's website… CLICK HERE
---
NOTE:

GOOD LUCK! All winners will be notified by email with their names posted on our website page here plus announced on our social networks!
*Terms & Conditions: By registering for our event you understand that all prizes won during the event are prize donations from our sponsors and have no monetary value. Winners names will be delivered by us to the sponsor who donated the gift and you will be contacted directly by the sponsor to collect same. You understand that VAvirtuosos.com is not held liable for any prize won or for any monetary value for any prize undelivered. If this ever did happen (and we only have this clause in here to save our butt and doubt it would) we would have your prize replaced with a pro-rated VAinsider Club not to extend value of $333 membership of the same value of your prize so at least you receive something for the prize you may win at our LIVE event. All prizes expire 3 months after draw date and may not be redeemed after this date.
Become a Sponsor or Donate a Prize