Sitting on the Fence About Attending #VAVS?
Well maybe this will help you jump off!
Because I want to help you make $$$ in your business this year!
I've reached out to my business colleagues and asked them to give us some SWAG this season for all our GOLD and DIAMOND Ticket holders. I've put together some awesome courses and training tools that will benefit any service-based business and help you FIND and RETAIN more clients in your business! Which means more money for you. 😉
$1600+ worth of Premium Training Courses and Tools
Are waiting for you to grab in our SWAG BAG to help you grow your service-based business! AND this is just our Swag Bag, wait until you access the 20 Expert Speakers webinars! 😉
You'll Get INSTANT ACCESS to ALL of these Tools and Training When You Upgrade to GOLD or DIAMOND…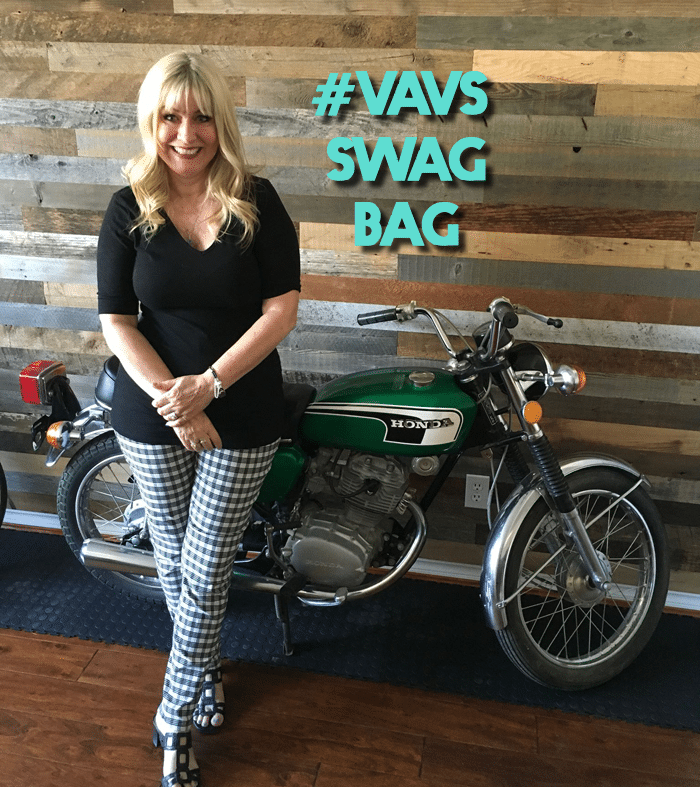 Productivity Power Program
($397) Contributed by: Craig Cannings from Freelance University
Most successful VAs will agree that our daily productivity has a strong link to the forward progress and success in our business. Yet, no matter how many productivity books, blog posts and videos we consume, we often still fail to maximize the time we are allotted each day. In the Productivity Power program, we are going to offer some very practical strategies, tools and a simple system you can use to maximize the productivity and results in your day, so you can essentially get more done in much less time. We will incorporate timeless, age-old productivity strategies with a blend of new tools to help you to be more accomplished and productive each day. Join us for this workshop and let's boost the "Productivity Power" in our businesses.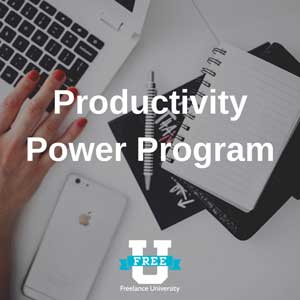 Complete Client Onboarding System
($27) Contributed by: Abbey Ashley
The Complete Client Onboarding System gives you everything to onboard a new client with professionalism and ease. It includes a step-by-step checklist, a ready-made Trello template board, a welcome email template, plus a comprehensive list of VA tools.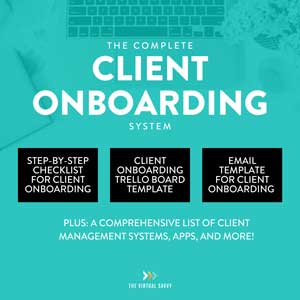 The VA School Crash-Course in Sales & Marketing For Your VA Business
($20) Contributed by: Laura Licursi
If you've been struggling with sales & marketing for your virtual assistant business, this course is for you! In less than 1 hour you're going to walk away with content ideas that speak directly to your audience and specific sales strategies with swipe files that you can implement immediately.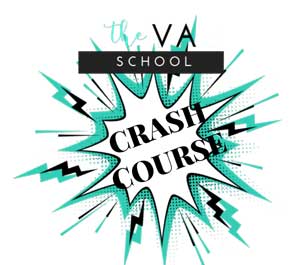 60 Done-for-You Blog Posts for Freelancers & Coaches
($47) Contributed by: Coach Glue
How would you love your blogging done for the next year? With this set of done-for-you blog posts, you'll have drafts ready and waiting for you that you can use to get more clients! You'll get 60 professionally written articles on hot topics your clients want to know more about including: How to Double Their Traffic, WordPress, Productivity and More! Just copy them into your blog or newsletter, tweak, and hit publish. Please note: These are for you to use in your own business, on your blog, and in your newsletters to get more clients. They can not be used on client sites.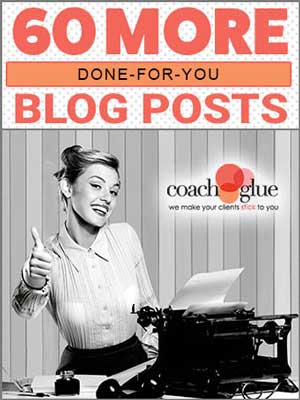 Using Pinterest to Promote Your Blog Posts
($37) Contributed by: Stacey Myers
Know you should be on Pinterest but don't have a clue where to start?
You will learn how to:
Choose the best keywords for your Pinterest Boards (even if you know nothing about keyword research)
Get your boards set up with yours, and other people's, content
Creating eye catching graphics
The best low-cost social share plugin to help your pins get more traction
How to create great graphics, with templates included
With the comprehensive training and editable Canva templates, it is easier than you think.
Masterclass "Vacation doesn't help anymore? There is a way out of overwhelm, burnout and exhaustion."
($197) Contributed by: Ann Bondarchuk
Burnout is a devastating experience and people pay the high price of losing their health, relationships, opportunities, money, effectiveness and time on this earth when they neglect their own inner world, well-being and their true dreams and priorities. There is a way to avoid future regrets, to have internal freedom and to live a fulfilled, joyful life.
If taking another vacation or having a good weekend doesn't help, you might want to look deeper to see if you are on a way to burnout. You might need to resolve inner reasons, and to set up a working strategy on improving your well-being. Join our masterclass and make a radical turn to take your self-care seriously.
On Masterclass, you will learn how to:
Plan your initial steps to prevent and overcome burnout
Start making real progress and not waste time
Gain control back and start enjoying your life again
Avoid building stress and feeling overwhelmed
Significantly improve the quality of your well being
Stop sabotaging your own sanity
Balance a successful business and a happy family life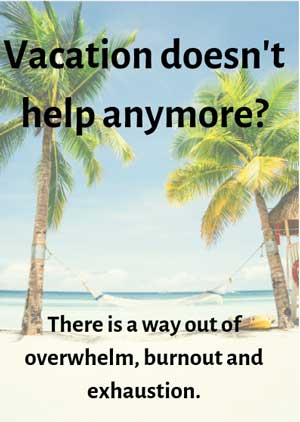 Outsourcing Planner
($37) Contributed by: Lynette Chandler
An outsourcing plan, workbook and planner in one. Use it to:
Set clear objectives about the role you are hiring for
Build the perfect job ad
Create small gigs and evaluate hires
Evaluate talent
And much more.
Extended rights INCLUDED! Which means you can edit, rebrand, sell, or use as a lead magnet to promote your business.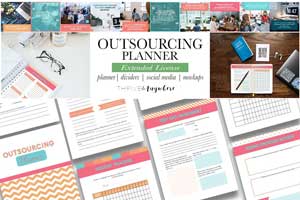 Home Business Balance Business Financial Planner
($47) Contributed by: Krishna Woods
Take the stress out of business money issues with the Home Business Balance Business Financial Planner. The planner gets you laser focused on money issues related to your business so that you can get back to the things that you do best.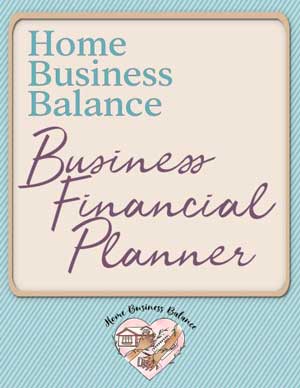 How to Find, Sign and Keep Clients
($18) Contributed by: Regina Lewis
One of the biggest problems new (and veteran) virtual assistants face? Finding clients and keeping your pipeline full.
In this course you'll learn:
How to identify your ideal client and why it's important to take this step
How to fix some of the mistakes made when searching for clients
Where to find clients and how to pitch your services
How to sign clients
How to keep clients
How to ask for referrals so you can grow your business
Includes videos and handouts for each module, plus a special offer!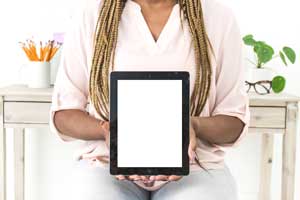 Ultimate Profitable Packages Resource Bundle
($97) Contributed by: Lisa Wells
Get your free bundle to help you create profitable packages:
Client Benefit List of 30 ideas of how to convey your value to clients
Training video where we go in-depth on how to create and price a service package
"Art & Science of Naming Your Packages" which will help you name your packages in 20 minutes!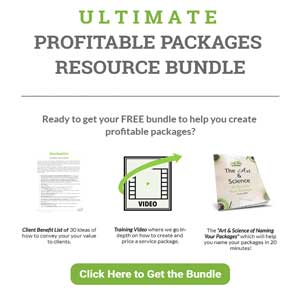 Webinar Outline Guide & Worksheet
($17) Contributed by: Danielle Beauchemin
Ready to host a webinar? Use this Webinar Outline Guide & Worksheet to help you plan out your presentation from start to finish.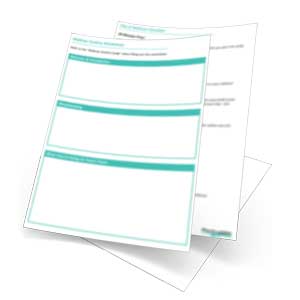 Easy Peasy Website Maintenance Checklist
($17) Contributed by: Renee Shupe
The ultimate guide to help you keep your WordPress maintained. You'll have a complete checklist to guide you with everything you need to do on a monthly, quarterly and yearly basis to keep your website well maintained and secure.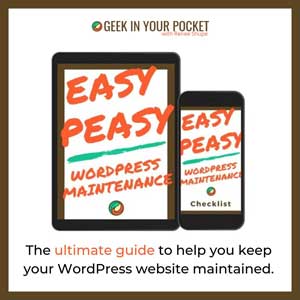 Weekly Newsletter Planner Guidebook & Weekly Newsletter Planner
($27) Contributed by: Dortha Hise
The Weekly Newsletter Planner Guidebook and Planner walks you through identifying you you're writing your newsletter for to answering the question why do people sign up for YOUR list as well as why people want to STAY on your list.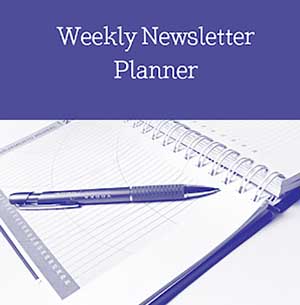 GoKiss Social Platform – First Month Free
($20.99) Contributed by: Nakia D Whittaker-Woody
Nakia has partnered with an OBM and have contracted a software platform which we promote to Virtual Service Providers who are just starting out for gaining back time with managing their social media management and client ROIs. It is an all-inclusive software platform.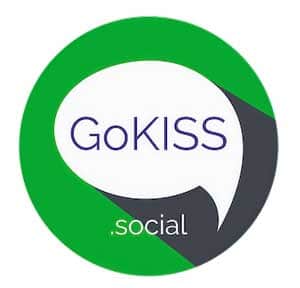 Become a Proactive VA Training Track
($97) Contributed by: Tawnya Sutherland
What is a Proactive VA? A Virtual Assistant who strategically seeks ways to help their client's business grow because of an invested interest in their business. If the client succeeds -> the VA succeeds!
You'll gain access to one of my most popular training tracks inside my VAinsiders Club. This series of 3 video workshops presented by Tawnya Sutherland, Certified Internet Marketing Specialist and Founder of VAnetworking.com, will help you take your VA business to that next level of success. If your ultimate goal in business is to have the lifestyle you've always dreamed of whether it be the ability to take all the time off you want or have that six-figure plus income you've been hearing about then you need to become Proactive.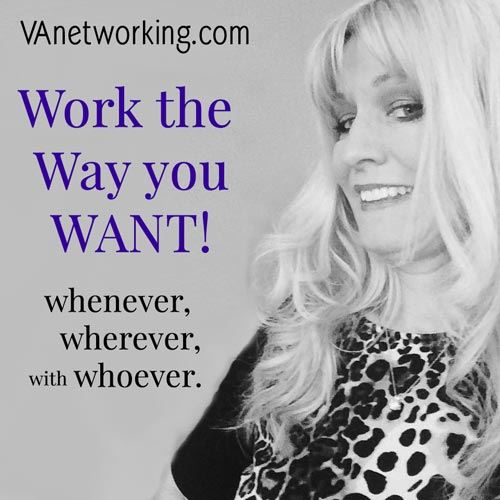 Entrepreneur's Guide to T.O.P.: A productivity plan to put your business in the fast lane
($20) Contributed by: Elaine Sellers
T.O.P. is an acronym for Time Management, Organization and Processes. Taking control in these three areas will maximize effectiveness so you can accomplish more with less time and effort. Sounds good, doesn't it?
The book includes exercises, samples and a step-by-step plan that will increase productivity and build a solid structure for your growing business. Grab your copy today!
Press Release Essentials
($49) Contributed by: Patrysha Korchinski
Press Release Essentials is a self-study publicity in a box package that guides small business owners and solo professionals through the process of writing and sending out press releases that get results to increase awareness about your business without spending a dime!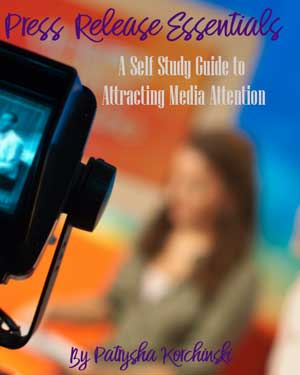 Styled Stock Muse Starter Set
($35) Contributed by: Meg Goodman
Your swag product is a sampling of high resolution images offered inside our membership. Images are ready for you to start putting to use across your business, website and social media.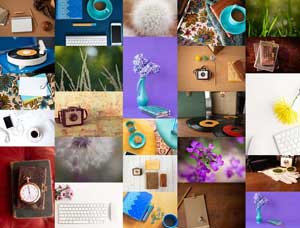 Formatting Words. Because Looks Are Everything!
($49) Contributed by: Cindy Brock
Frustrated and stressed out trying to get your MS Word documents to do what you want and have that professional top-notch look? This course teaches you exactly what you need to do create beautiful works of written art!

Bizzy Quote Membership
($47) Contributed by: Vicki Patton
Get a years worth of social media quote graphics! These gorgeous, easy-to-use templates can be edited in the free design program Canva in just minutes. No graphic design experience needed! Or you can use the done-for-you quote graphic files in JPG and PNG and post it directly to your social media account with no editing needed.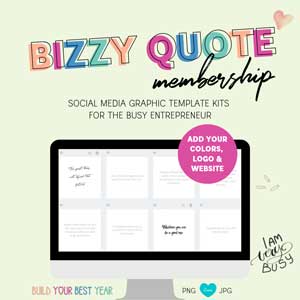 The Power of Colors & Your Online Business
($30) Contributed by: Christiane Jechoux
The Power of Color is inescapable!
It affects our behavior, moods, and thoughts. From Interior Designing to Marketing, it's simple – Colors Rule!
In this eBook, I discuss how colors affect our everyday choices, and how to use them to OUR advantage in our Online businesses.
From Online Marketing, Website Design, Graphics and more, Colors are the tool of choice to success!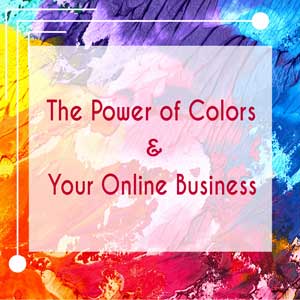 Self-Care For Profits Bootcamp
($89) Contributed by: Val Selby
It's Hard Enough to Grow a Thriving Business–but Even Harder When You Don't Have Energy to Get Out Of Bed!
Get back on track and achieve the stress-free, joy-filled, expansive-feeling business and lifestyle you've been dreaming about with this 4 week bootcamp.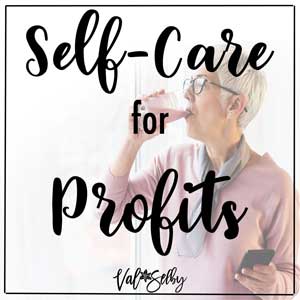 My Household Budget Journal
($24.95) Contributed by: Elizabeth Hughes-Callison
Are you looking for a System to keep track of your Income and Expenses? This particularly robust system will help you have reassurance and peace of mind for yourself and family, without going crazy. You'll find 28 non-boring Downloadable Pages to choose from that will help you get your Household Budget on Track. In fact, you will easily build a repeatable system for getting on track – and keeping on track.
IM How-to Video Training Bundle
($37) Contributed by: Amy Harrop
Comprehensive video training to get your started with website hosting, email list building and management, shopping carts, and SEO.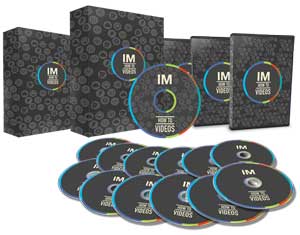 New Client Process Guide
($17) Contributed by: Alicia Jay
A step-by-step guide for virtual service providers, giving you everything you need to create your consultation and new client welcome process. Includes a guide, checklists, and templates.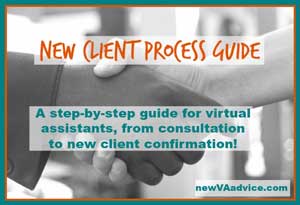 How to Participate in or Host Giveaways or Bundle Sales
($47) Contributed by: Angela Wills
This is an action plan which gives you the exact steps to take to grow your list without question. Follow the steps, join quality events and watch your email list grow. The Giveaway or Bundle Events Action Plan is like having a pre-created process document for your business to follow to create your offer. You will be given the exact steps I have used in my own business to add thousands of new subscribers to my own emails lists.
The action plan includes a step by step, task by task outlay of what you need to do.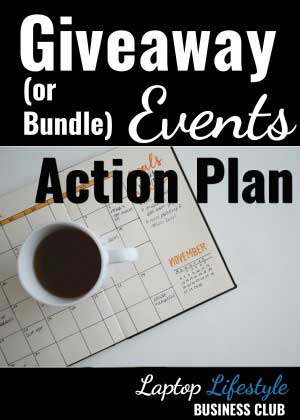 FAQ Challenge
($27) Contributed by: Kelly McCausey
Whether you're providing services, offering software or simply providing content for your community – a FAQ is a 'must have' section to develop. This 30 Day FAQ Challenge was all about creating a high quality Knowledge Base for web projects. Originally run as a live participation Challenge, I'm giving you access to the entire archive of 30 daily activities and encouragements I created.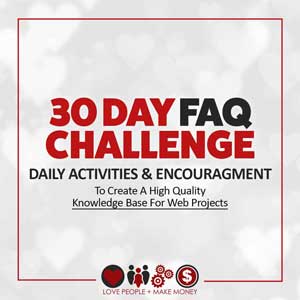 Fast and Focused Marketing Plan
($97) Contributed by: Meredith Eisenberg
Stop struggling with your marketing and jumping from shiny object to shiny object.
This course will help you develop a realistic plan you can stick to and get results.
The course is delivered in short 20-minute audios (listen in the car or at the gym) and includes workbooks and exercises to help you implement what you've learned.
Course bonus: a personalized review of your completed plan.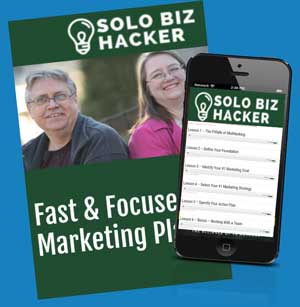 Client Aquisition Letters Template Pack
($37) Contributed by: Alice Seba
As a virtual assistant, clients are your livelihood, but the process of acquiring new clients, getting clients onto a retainer and getting referrals often gets forgotten when you're busy WORKING with clients. Well, these fill-in-the-blanks letter templates make it super easy to ensure you stay on top of the process. This must-have package includes the following…
Insider's Strategy Guide
Client Benefit List
30 Ways to Get Referrals from Your Clients
Cold Email & Cold Email Follow-up Templates
Event Follow-Up Email
After Consultation Email
Request for Testimonials Email
Request for Referrals Email
Get More Work Email
Offer for Retainer Email
Introduction Email
Client Engagement Email
…making it super easy for you to keep new clients and work coming in.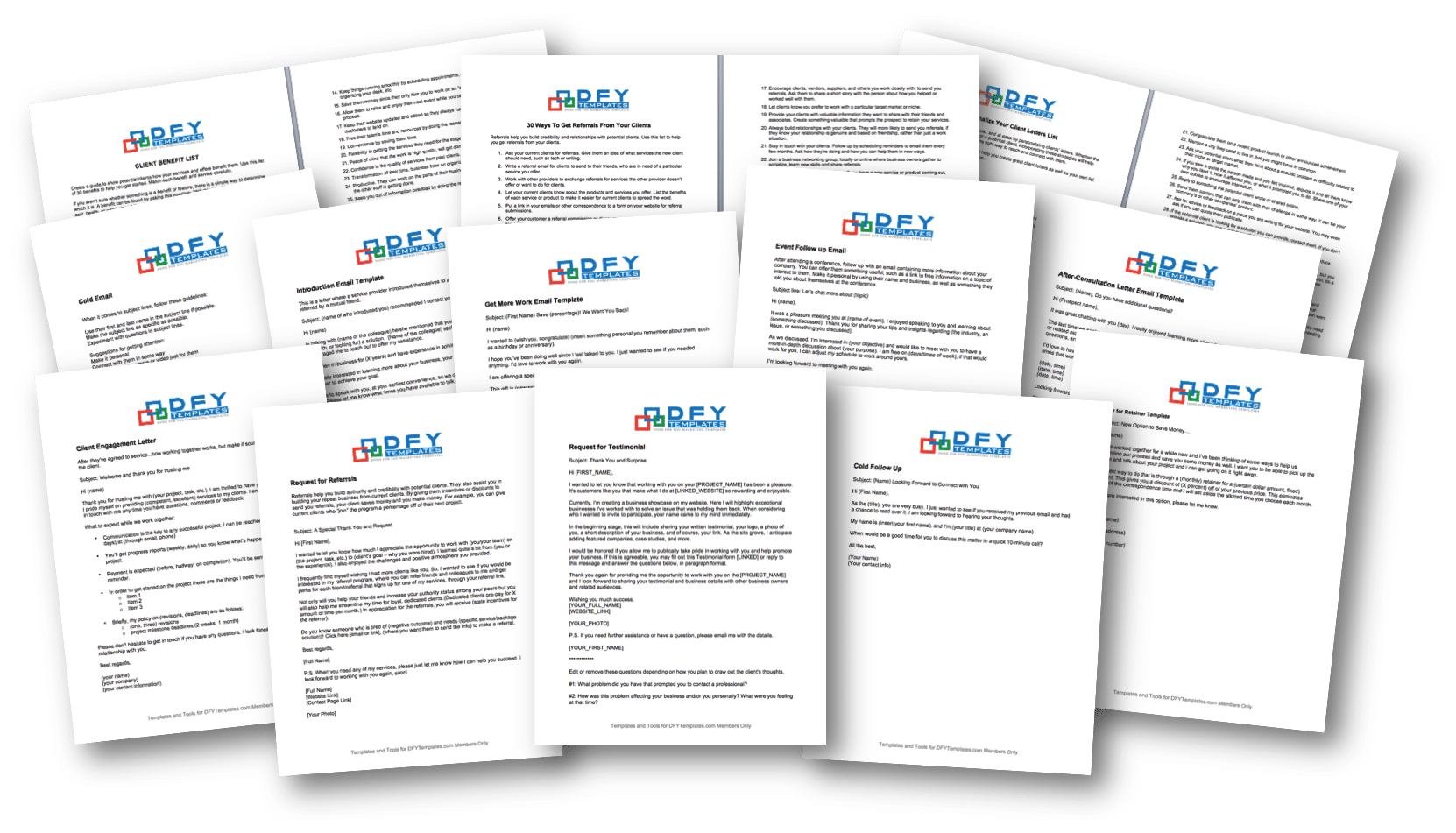 Over $1500 in premium training tools just waiting for you to grab!
Don't wait long as we are only allowing 200 Upgrades at this time.