Sitting on the Fence About Attending #VAVS?
Well maybe this will help you jump off!
Because I want to help you make $$$ in your business this year!
I've reached out to my business colleagues and asked them to give us some SWAG this season for all our GOLD and DIAMOND Ticket holders. I've put together some awesome courses and training tools that will benefit any service-based business and help you FIND and RETAIN more clients in your business! Which means more money for you. 😉
$1700+ worth of Premium Training Courses and Tools
Are waiting for you to grab in our SWAG BAG to help you grow your service-based business! AND this is just our Swag Bag, wait until you access the 20 Expert Speakers webinars! 😉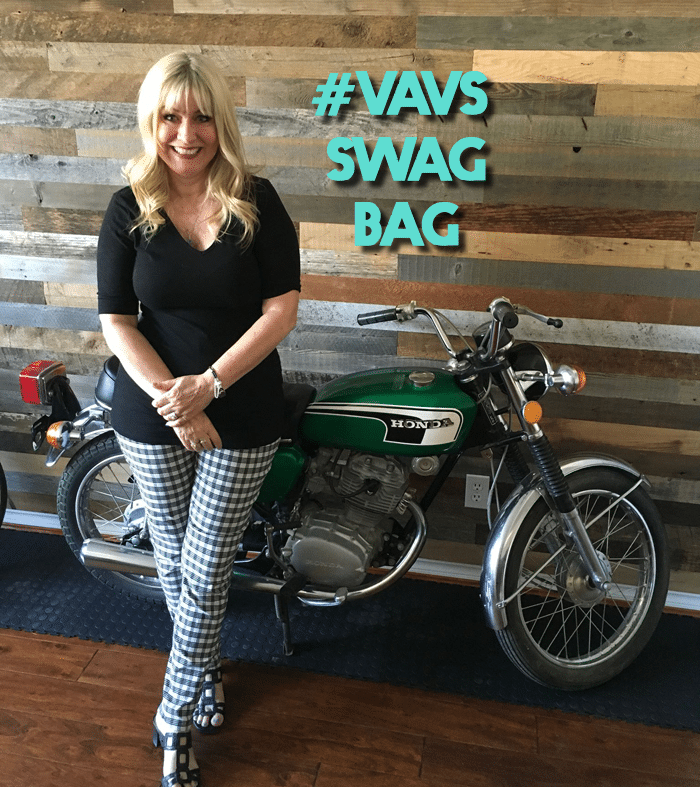 You'll Get INSTANT ACCESS to ALL of these Tools and Training When You Upgrade to GOLD or DIAMOND…
10 Difficult Client Situations & How to Handle Them with Grace and Ease Action Kit
($25) Contributed by: Lisa Wells
This Action Kit includes a 25-page guide giving you SOLUTIONS to difficult client situations, "21 Idea Blueprint," done-for-you calendar, action checklist, worksheet, and resource directory with links to tools and resources!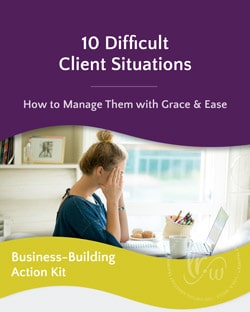 PLR Pack: How To Save Time & Money w/Outsourcing
($47) Contributed by: Kelly McCausey
Help your readers identify 10 ways that outsourcing can improve their business and make it easier for them to achieve their goals. With this content boost, you'll be helping your people discover how to find others to outsource to, train them effectively, grow an active, happy team and more! Use it as a fantastic Content Upgrade to build your list or use it for group or private coaching support, add it to a free or paid membership, use it as the core to create a great webinar – the options are so fun!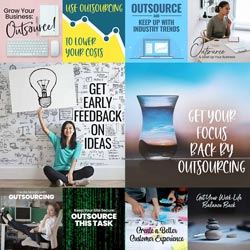 Pitching Packet
($15) Contributed by: Holly Hanna
Would you like to start guest blogging? How about collaborating with other business owners or brands? Or maybe you're looking for some new clients? Whatever your reasons are for sending out pitching — you need to have a system in place to keep your efforts organized.
With the Pitching Packet, you'll have the exact system that I use for successfully pitching clients! Stop guessing what the next steps are and start pitching like a pro!
Just print out these pages, add some hole punches, and place them into your favorite three-ring binder.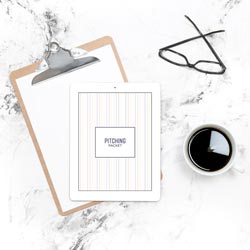 "The Art of Prospecting" Video Training
($197) Contributed by: Jessica Koch
The Art of prospecting video training provides you with an in depth, step by step, highly filtered explanation of how to prospect for your ideal customer and prequalify them to be the right fit to work with you. In this training you will also understand how to use a tool that is a very expensive database and research tool, but it is paid for and often available to you, with your library card. This works anywhere in the United States as well as in multiple other countries I have helped my clients identify and use a very similar database that was available in their country's library system, so you will find that the very first step, in every sales process is to begin with, identifying your ideal customer, and the prospecting process is that first step to success and so very incredibly valuable.
Social Media Management with ContentStudio
($197) Contributed by: Kimberly Charron
Save time and money by using one social media tool (instead of multiple), that not only schedules social media for you and your clients across all the popular platforms, but does so much more! Get the most out of ContentStudio and become a social media superstar with this course!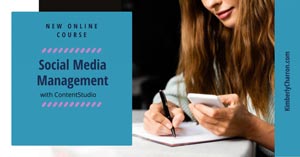 Craft Your Speaker Applications To Land The Gig
($37) Contributed by: Jackie Lapin
Want more speaking gigs? Then you have to make that initial email a knock-out!
Learn the secrets of writing an email that will impel a speaker booker to say "yes!"
But sometimes it'll take a great follow-up call to get their attention…we've also got you covered there!
In this video training you'll:
Discover the ways to build your appeal
Know what elements go into that enticing email
Figure out how to strategize your follow-up calls so you get priority attention
Learn what you can do to build long-term relationships with bookers so you get booked consistently—time and time again!
Up your game when it comes to communicating for success with gatekeepers who control your future speaking opportunities!
Savvy Social School (1-month free membership subscription)
($57) Contributed by: Andréa Jones
If you're looking for a simple, easy (and fun) way to use social media as a tool to grow your business, the Savvy Social School takes you from wasting time to feeling confident that you're making the right choice for you and your business.
Get access to full-length social media courses on Facebook, Instagram, LinkedIn, TikTok, our Done-for-You social media posts and captions, monthly content calendars, as well as group coaching calls where you can get your burning social media strategy questions answered in real-time and connect with dozens of other entrepreneurs just like you.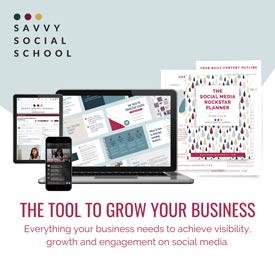 The Kindle Creation Challenge
($147) Contributed by: D'vorah Lansky
Get ready to publish your first or next book! Discover how to quickly and easily create, format, publish and market
highly attractive kindle books – from new or existing content! During the course of this Kindle Creation Challenge, you'll discover a variety of ways to transform your words into attractive, well-formatted, Kindle eBooks!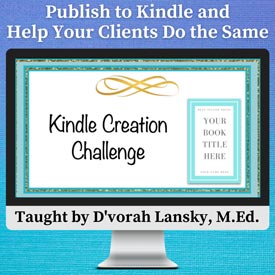 30 Done For You Social Media Posts
($30) Contributed by: Amber Louise
Do you struggle to come up with social media posts for your Instagram feed? Do you lack the time to create eye catching social graphics for your feed? Do you wish to save time on researching interesting quotes for your social posts?
If you answered yes to any of the above then look no further as our Social Media Kits offers 30 DFY engaging posts with graphics and quotes.
We take the hassle out of your post management. We do the groundwork and research quotes and source eye catching imagery ready for you to upload to Your social media platforms.
All you need to do to make these unique to your brand is place your watermark logo on each image within Canva or PicMonkey and then schedule to your social account..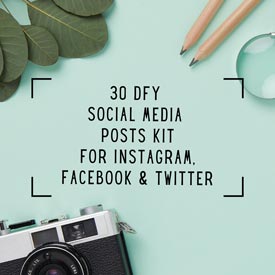 Effortless Launch Formula eCourse
($497) Contributed by: Gina Noel Decker
Effortless Launch Formula is an evergreen eCourse that includes 4 content-rich modules, a learning library filled with resources, a Facebook forum, and training videos that offer step-by-step directions for you or your Virtual Assistant team.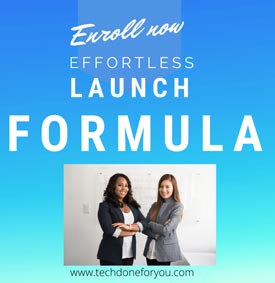 Miserable Employee to Location Free in 90 Days or Less
($147) Contributed by: Lisa Mulhern
Do you dream about working in your VA biz from anywhere in the world? Anytime you want…
But are overwhelmed, don't think it's possible, maybe don't know where to start? Stop!
I've got you covered in true digital nomad style!
Learn:
How to Prep Your Lifestyle so you can wander worry-free
Must have resources for working remotely
Uncover your unique travel personality
Fail safe guide for managing money from afar
Get my course on how to become a true digital nomad…and serve clients from all over the world
$39 to Spend at Thrive Anywhere
($39) Contributed by: Lynette Chandler
Create your own workbook, journal or planner, no design skills required. 
Use Thrive Anywhere's pre-built templates, and in a few hours, you can have your own workbook, planner or journal ready to sell or generate leads for you.
Pick the planner of your choice with your credits. 

Become a Proactive VA Training Track
($97) Contributed by: Tawnya Sutherland
What is a Proactive VA? A Virtual Assistant who strategically seeks ways to help their client's business grow because of an invested interest in their business. If the client succeeds -> the VA succeeds!
You'll gain access to one of my most popular training tracks inside my VAinsiders Club. This series of 3 video workshops presented by Tawnya Sutherland, Certified Internet Marketing Specialist and Founder of VAnetworking.com, will help you take your VA business to that next level of success. If your ultimate goal in business is to have the lifestyle you've always dreamed of whether it be the ability to take all the time off you want or have that six-figure plus income you've been hearing about then you need to become Proactive.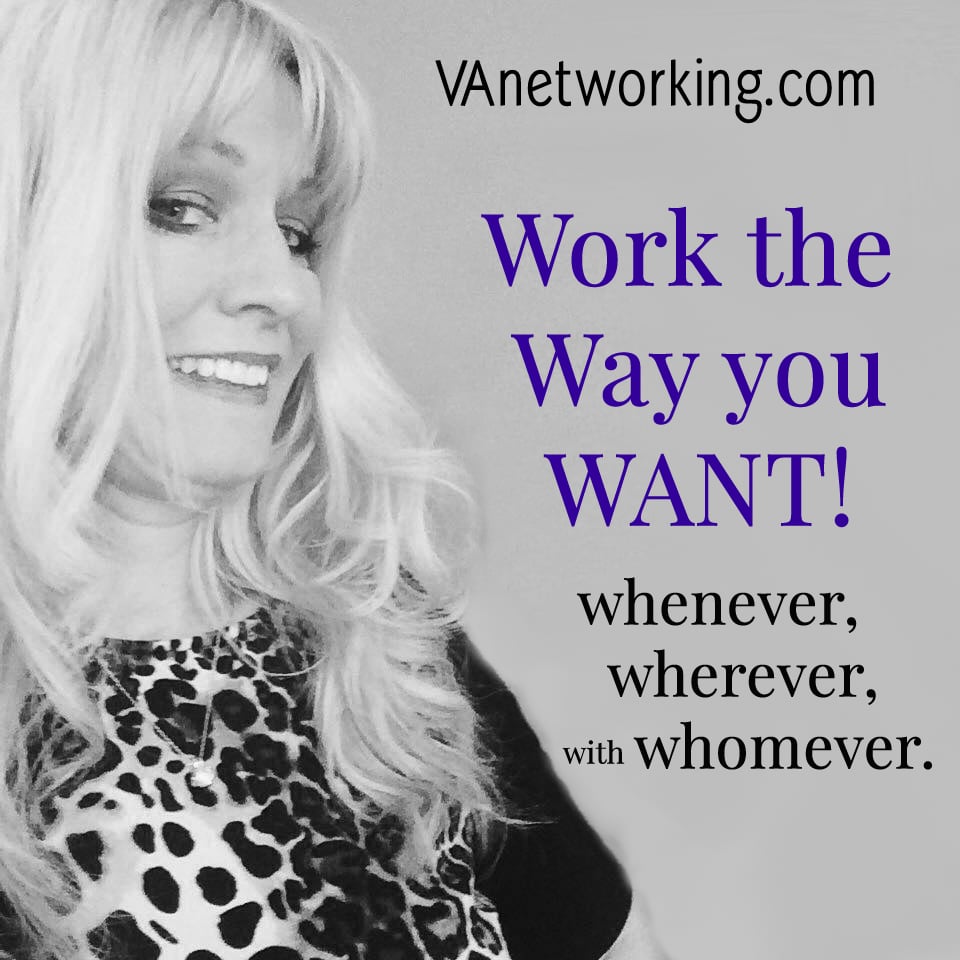 Over $1700 in premium training tools just waiting for you to grab!