Frequently Asked Questions During Conference:
Q. How do I navigate the member area?
A. Watch this short video on our member area.
Q. Help! I can't find the link to the webinar room to attend it LIVE today.
A. The link to the webinar room will always be inside your member area under your Active Resources.
Q. What is my password to login to the member area?
A. If you can't recall your password, just enter email you signed up with in "Lost Password?" form on right of login area and it will be retrieved via the email you signed up with.
Q. I am having sound problems and can't hear the webinar
A. If you are having sound issues, first perform a connection check here to make sure you have a good connection. If you are running a wireless internet connection you may experience lagging issues and to resolve this just make sure you have a hard wire internet connection.
Once inside our webinar room you can also run the AUDIO SETUP WIZARD  under the "Meeting" menu at the top left corner. Make sure your microphone/headset/speakers are connected properly to your computer ie) Go to YouTube.com and see if you can watch and hear a video playing there, if you can that is a good sign and means its just a matter of tweaking your audio settings on your computer to get sound.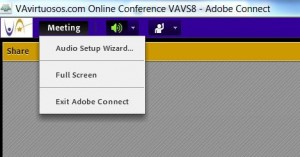 Sound Issue Checklist:
Have you got your speakers turned on (silly question but we have to ask as it happens to the best of us 😉
Under Meeting tab (upper left), run the Audio Setup Wizard
Make sure speaker icon is not muted and is green at top of webinar room
Make sure skype is not on as sometimes it conflicts with webinar rooms
Leave webinar room and come back in 90% of the time that fixes sound issues
Q. I'm finding the speaker is lagging and/or their voice is cutting out during the webinar.
A. We do not recommend watching these webinars on wireless connection and instead hard wire your computer to the Internet for best reception. To check your connection status in this webinar room, click on the green box beside the Help button in the very upper right corner. This will tell you your connection status and hopefully it says 'Excellent'. If there is a connection problem for our speaker, the Host of the webinar will let the audience know via text chat and/or voice.
Q. How do I ask the speaker a question during their webinar?
A. If you have a Question for the speaker please put into "Question for Speaker? ASK HERE" box upper top right and the host will ask the speaker the question at end of their webinar if it is relevant to their topic of discussion. Please don't post question in this General chat area as it may not get seen here.
Q. The links to the recordings in my member area are dead links.
A. Recordings may not be in your member area for up to 72 hours. SILVER members do not receive recordings or PPT notes to download and make notes on during webinar. For a limited time the week of the event, you can pay difference and upgrade to a GOLD member to access recordings and PPT notes inside your member area.
Q. Where can I get the speakers PowerPoint notes?
A. If you are a GOLD member the speakers have their PPT notes uploaded to your member area that you can print out and take notes on during their presentation.
Q. I can't remember a speakers website URL, how do I find that?
A. You can always login to your member area to get links to the speaker websites and offers. Speaker websites can usually be quickly accessed through our shorty links ie) http://www.vajot.com/tawnyas (Speakers first name 'Tawnya' in full followed by first initial of last name 'S'.
Q. Where can we network with other VAVS attendees after hours?
A. Network after hours with other VAVS attendees by joining our FREE VA Forum and saying hi here: http://www.VAjot.com/vavschat
Q. How do I follow Tawnya's Twitter list of attendees and speakers at VAVS?
A. Follow @vanetworking on Twitter. Follow my VAVS Twitter list of speakers & attendees to keep in touch (DM me to be added to it) Our hashtag is #VAVS.
Q. I can't remember the resource link shared in the general chat area today, how can I find it?
A. The majority of the links mentioned in the webinars will be added to our VAjot recommended resources website.
Q. How do I save the text chats in the webinar room?
A. To save chats in General Networking/Chat Area do this:On PC, Right-click > SelectAll > Right-click again. > Copy, then paste it into whatever program you take notes in. Please note we do clear the text chat without warning at times to decrease bandwith usage of the room so save often.