We are seeking engaging "Virtual Assistant" SPEAKERS for our next #VAVS Season 18 online conference.
To be held October 21 – 25, 2019, from 9am PST to 5pm PST (4 webinars each day)
Sponsorship Speaker opportunities also available by clicking here
If you'd like to get noticed and share your knowledge with the Virtual Assistant (VA) market look no farther than our #VAVS hosted by Tawnya Sutherland, the market leader to the VA industry VAnetworking.com
This is our 18th season (hard to believe we've done this 17 times already LOL) and we welcome all speakers who have something to share with our Virtual Assistant network to help them find and retain clients in their service -based business.
Deadline for speaker application is August 1st, 2019.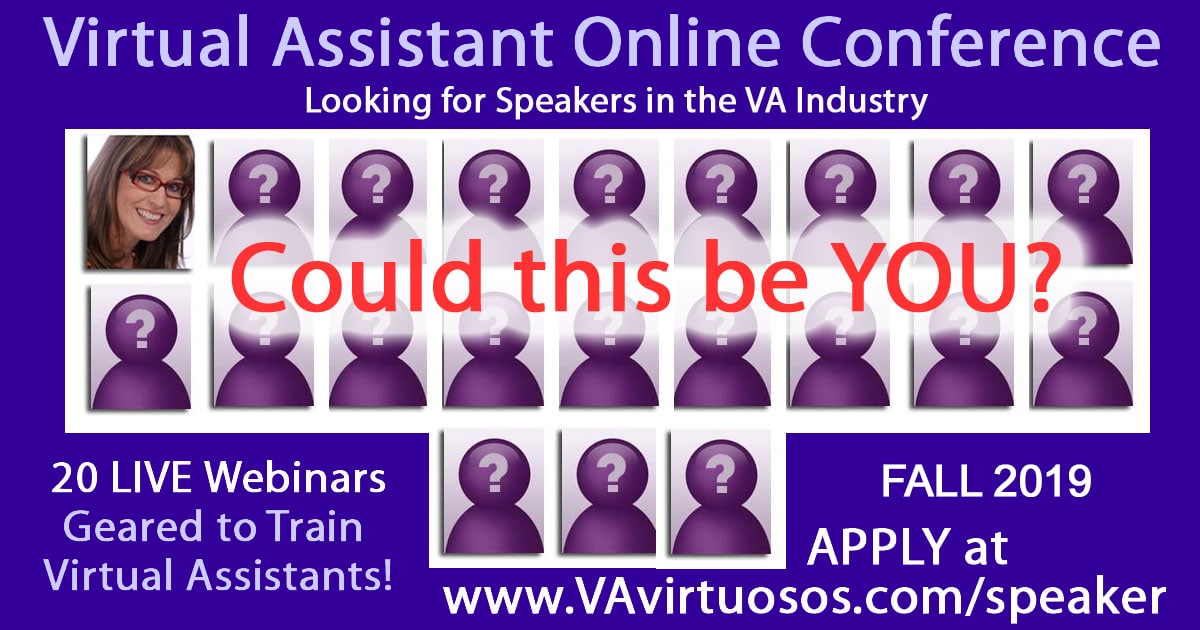 #VAVS 18 Theme: Find & Retain Clients in Your Service-Based Business
Our attendees are Virtual Assistants, Freelancers and service-based entrepreneurs who want to learn from other business-minded owners how to "Find & Retain Clients in Your Service-Based Business".
This opens the doors for a variety of webinar topics and here are some examples of topics we are looking for…
How to use Linkedin (or whatever social network) to find clients
How to keep the lines of communication open with your clients
Quality Customer Service will keep your clients coming back
Using Teamwork (or whatever project management system) to Keep in Contact with your clients
Creating a cohesive brand online to attract new clients
Packaging your pricing to entice new sales
Being Proactive in your service based business
How to Find Your Niche
Whatever topic you think other Virtual Assistants would like to learn!
If you have some other topic that revolves around our theme please suggest same when you apply below.
10 PERKS you get as a Speaker:
FREE GOLD TICKET to the event (value $97).
Get paid to speak with us. You can earn 50% affiliate income on every ticket you sell through your lists up until the end of the series.
Advertising on our high ranking website. You will be featured as a speaker on our website which includes your name, bio, URL, picture and description of your topic for approximately a year (or until our next #VAVS).
Social Marketing Exposure: Five Tweets by @vanetworking and one post on our Facebook Page over the course of our promotion period.
Optional marketing: Our speakers also have the opportunity to guest blog with us, donate prizes and do affiliate joint ventures with us.
Opportunity to build your list. To show our appreciation for your time and knowledge shared with our network feel free to share a freebie ebook or whatever with our attendees at the end of your webinar to entice them to sign up to your email list. Once you have them on your list you can send them whatever you want to sell!
MP3 copy of your webinar to use however you wish in your future marketing plan.
Admiration from your business colleagues. With over 100 applications for speakers at our event it is a great feeling to be accepted as one of our speakers. 😉
Speaker Testimonial: We love bragging about our awesome speakers so offering testimonials for their contribution to our event to use in their future marketing materials is a no-brainer 😉
What do we expect from you in return?
An educational 1-hour webinar on a topic that would benefit a Virtual Assistant targeted within our theme
Dedication and commitment to meet all deadlines required by speakers
– Attend a 15 minute webinar orientation in September (3 dates TBA)
– PowerPoint Slides due September 5th, 2019
A commitment to share with your email list and social followers via your affiliate llink (You receive 50% commissions). I'll even provide swipe copy to make it super easy. 🙂
A fun and worry-free speaking experience (especially if this is your first time speaking).
Deadline for speaker application is August 1st, 2019.
To apply before the deadline please fill out the form below completely. We will notify all accepted applicants by July 30th, 2019.
If you have any questions, fill free to drop me a call Toll-Free North America 1-800-642-6313 or local Vancouver, Canada 604-542-9664 to discuss.
To Your Virtual $uccess,

Tawnya Sutherland, CIMBS
The Market Leader For Virtual Assistants www.VAnetworking.com