ENDS FRIDAY! So if you're really serious about learning how to get clients then
GO VIP NOW!
For a limited time, only VIP Ticket holders will get…
ON-DEMAND Video Recordings of each Speaker's workshop with notes (Value $97)
Perfect to watch over and over again when life gets in the way, especially when you're working from home, busy with client work or have different time zones to contend with. A guarantee you won't miss any of the awesome content at #VAVS!
Printable Speaker notes to save your hand from cramping up
VAVS Group Coaching call with Tawnya Sutherland after the Summit to help you implement what you learn.
BONUS… you'll get tickets into our draws worth over $6000! But grab that VIP ticket quick as the draws happen throughout the month of October so the sooner you GO VIP the more chances to WIN!
AND BEST OF ALL OUR SWAG BAG: Includes Premium Courses and Tools (Value $2,500+)
Training to help you grow your service-based business! Get to work now implementing these courses into your business. (Details of each premium course and tool below).
Check out all 15+ Premium Products & Tools in our $2500+  SWAG BAG below…
VIP PERK #1:

20 Video Recordings

VIP PERK #2:

Printable Speaker Notes

VIP PERK #3:

VAVS Group Coaching Strategy Call

VIP PERK #4:

SWAG BAG ($2,500+ Value)

VIP PERK #5:

$6000+ in Prize Draws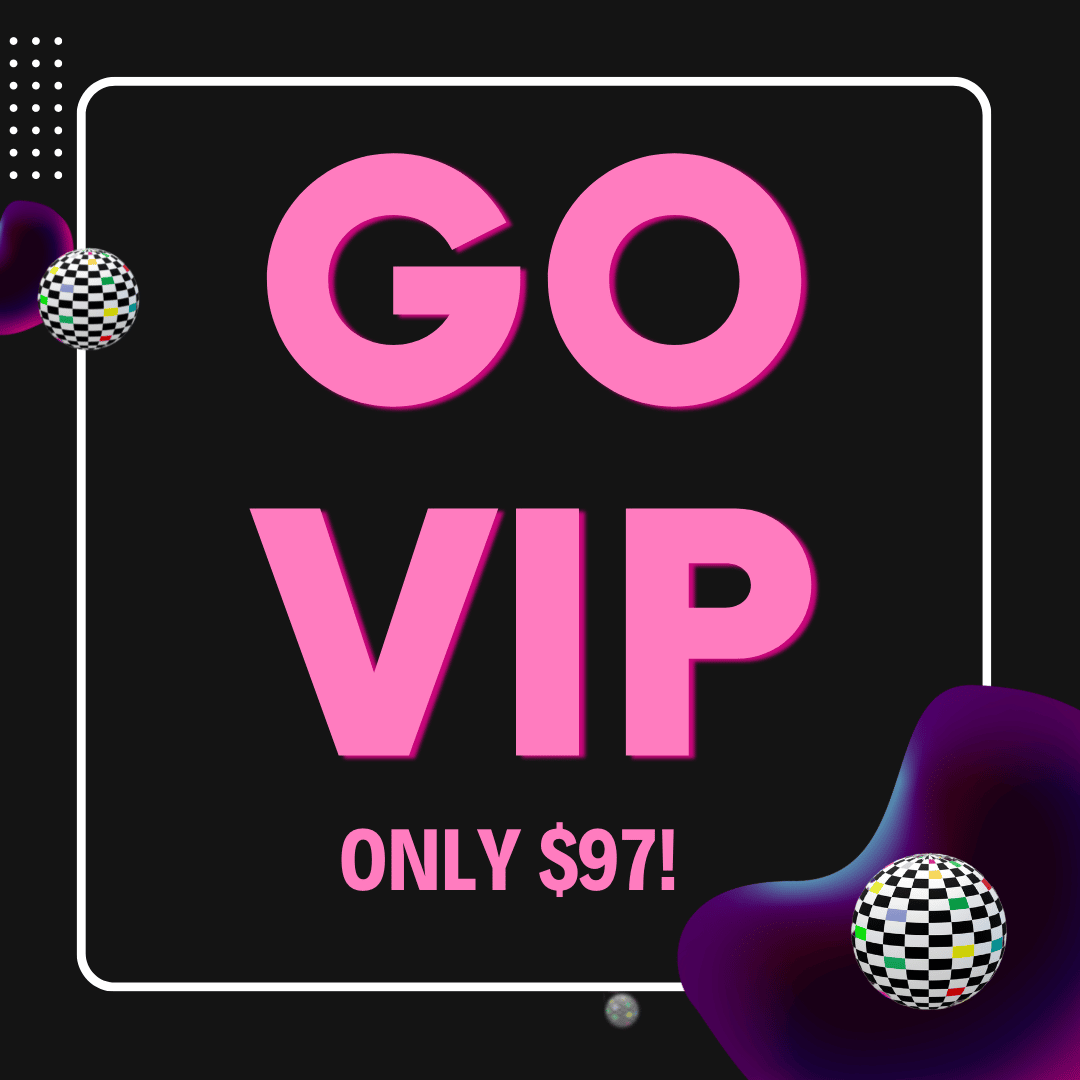 Email for a Living
($450) Contributed by: Angela Wills
This is a self-study video course on how to send emails that earn you a great income! You can sell your own services, affiliate products or digital courses, classes, etc. The skill of email marketing is something you can use as a side-hustle or to offer as a service to your clients (so you both can earn more money).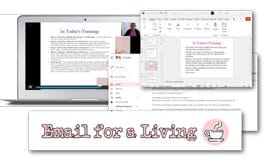 Social Media Management Success
($297) Contributed by: Craig Cannings
Master the Key Skills and Strategies to Become an In-Demand Social Media Manager.
Social Media Management continues to be one of the most in-demand niches in the Freelance Space today. Many businesses are in desperate need of a point person to manage their ongoing Social Media activities.
In this course, you will learn the strategies, skills and tools to become an in-demand Social Media Manager for your clients. You will discover key strategies for providing an effective Social Media Strategy and Action Plan for your clients. You will also walk through the activities and tasks that successful Social Media Managers do every day, complete with useful checklists and templates!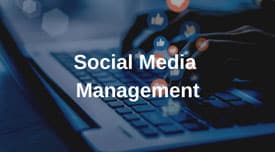 The Graphics Creation Workshop
($295) Contributed by: Christina Hills
Help your clients by adding the skill of graphic design to your tool box. The Graphics Creation Workshop is a program that teaches you how to create irresistible, eye-catching graphics that people will want to engage with and share to expand your reach. This is designed for people who are not professionally trained graphic designers.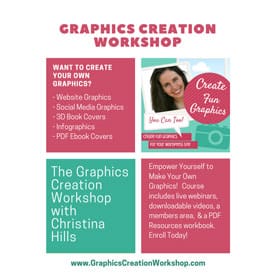 Client Contract Template for Independent Contractors
($97) Contributed by: Gina Horkey
We worked with an attorney to create an Independent Contractor Services Agreement for you to use with your first clients! Having a contract in place with your clients is an excellent way to:
Start things off on the right foot and clearly outline the details of your working relationship.
Make sure expectations are clear from the get-go to avoid any "awkward moments." 😬
Professionally address any challenges that may come up in the future, like scope creep (i.e. when you're being asked by your client to do more but your pay isn't reflecting the additional time/services).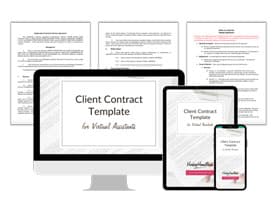 How to Rock Your Client's "Call for Speakers" Application Every Time!
($197) Contributed by: Jackie Lapin
Conferences and large speaking opportunities are the holy grail for your clients. It behooves you to know how to create a "call-for-speakers" form that gives them an edge. Grab this to master the art of the speaker submission form!
Sally VA Brand Templates Bundle
($147) Contributed by: Amber Louise
Are you in need of a total brand overhaul with beautifully designed graphics?
Look no further as it is all here for you in this beautiful VA Templates package. This kit is perfect for VAs, online business managers, graphic designers and service providers.
This is a great startup companion brand kit for those who don't yet have a website. All you really need to get started is an Instagram account and a Mailchimp account.
With this kit, you can start promoting your services. You can even promote your services on Etsy by opening a shop account or with your own Gumroad account (free account).
In this gorgeous kit, you will receive the following templates and graphics for your online business. All fully customisable and easily edited within Canva's free account.
Gumroad cover graphics
Instagram graphics
Bio link web template
Client testimonial graphics
VA logo template
Etsy shop sticker graphics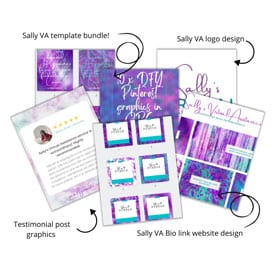 Proactive Webinars Training Program
($147) Contributed by: Danielle Beauchemin
Comprehensive training program to help you leverage webinars to grow your list, increase your revenue and become an industry expert. Plus once you go through this training program you can start offering webinar services to your clients.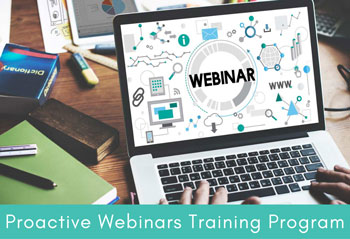 Geek in Your Pocket Website Protection Plan
($120) Contributed by: Renee Shupe
Website Care Without The Tech Headache! You have enough to figure out when it comes to running and managing your business. Taking on maintaining your website doesn't need to be one of them. My Protection Plan has you covered, website maintenace and available tech support when you need it.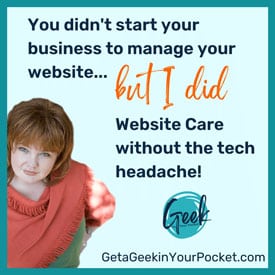 The Freelancing Freedom Plan
($99) Contributed by: Cindy Bidar
Leverage your time by creating training and products related to the services you offer. Perfect for booked out freelancers who want to scale without the agency stress.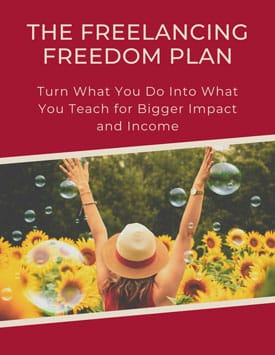 Skyrocket Your Business Growth Through Social Media Networking Masterclass
($97) Contributed by: Lynn Neville
Networking with peers, influencers, and potential partners is a powerful way for businesses to expand reach and attract new clients. This masterclass shows you how to use social media networking to easily skyrocket your business growth. You'll learn how to find and reach out to the right people and use simple systems to build authentic connections, all without it being hard or time-consuming. You'll also get a BONUS Take Action Workbook and Networking Tracking Tool.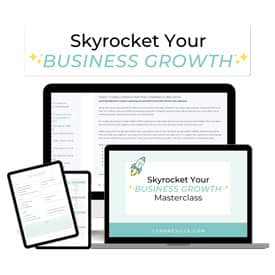 VA Niche Quiz: Discover Your Ideal Niche
($47) Contributed by: Kathy Goughenour
Knowing your VA niche helps you to:
Clearly communicate your value
Easily standout from the crowd
Increase the price of your services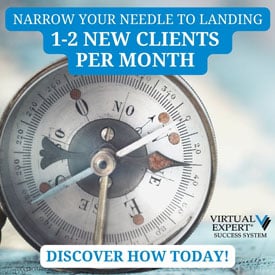 Freelance Starter Pack for Designers, Copywriters & SOP Creators
($47) Contributed by: Mark Hunter
Learn the foundations of copy and design with mentors including Mark Hunter, Heidi Schutter, Marie Mason and Tifa Mkwawa. Topics covered include: -How to layout your WordPress pages for best impact -Best design practices when using Canva -3rd Party Website Critiques to increase awareness of design on emotions and decision -AND a bonus SOP training with Tifa based on Heidi's Business Management Framework.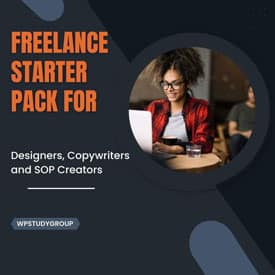 Get More Clients using Referrals and Testimonials Growth & Profit Plan
($37) Contributed by: Lisa Wells
Great referrals beget great testimonials. Great testimonials beget great referrals (see how that works).
With this Referrals and Testimonials Growth & Profit Plan, I will show you that implementing a referrals and testimonials system doesn't cost you anything to implement, it has huge returns, and it is something that you can definitely streamline.
With this complete Referrals and Testimonials Growth & Profit Plan, you will:
Know how and when to ask for a referral
Know how to use testimonials to add instant credibility, social proof, and bring in more clients
Get a training video, "How to Get a Client to Write the Perfect Testimonial" and request templates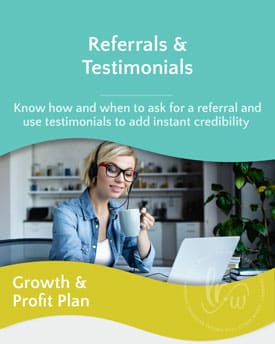 Social Media Planner Video Tutorial
($17) Contributed by: Melissa Irvin
Learn to plan a full month of social media post in just a couple of hours.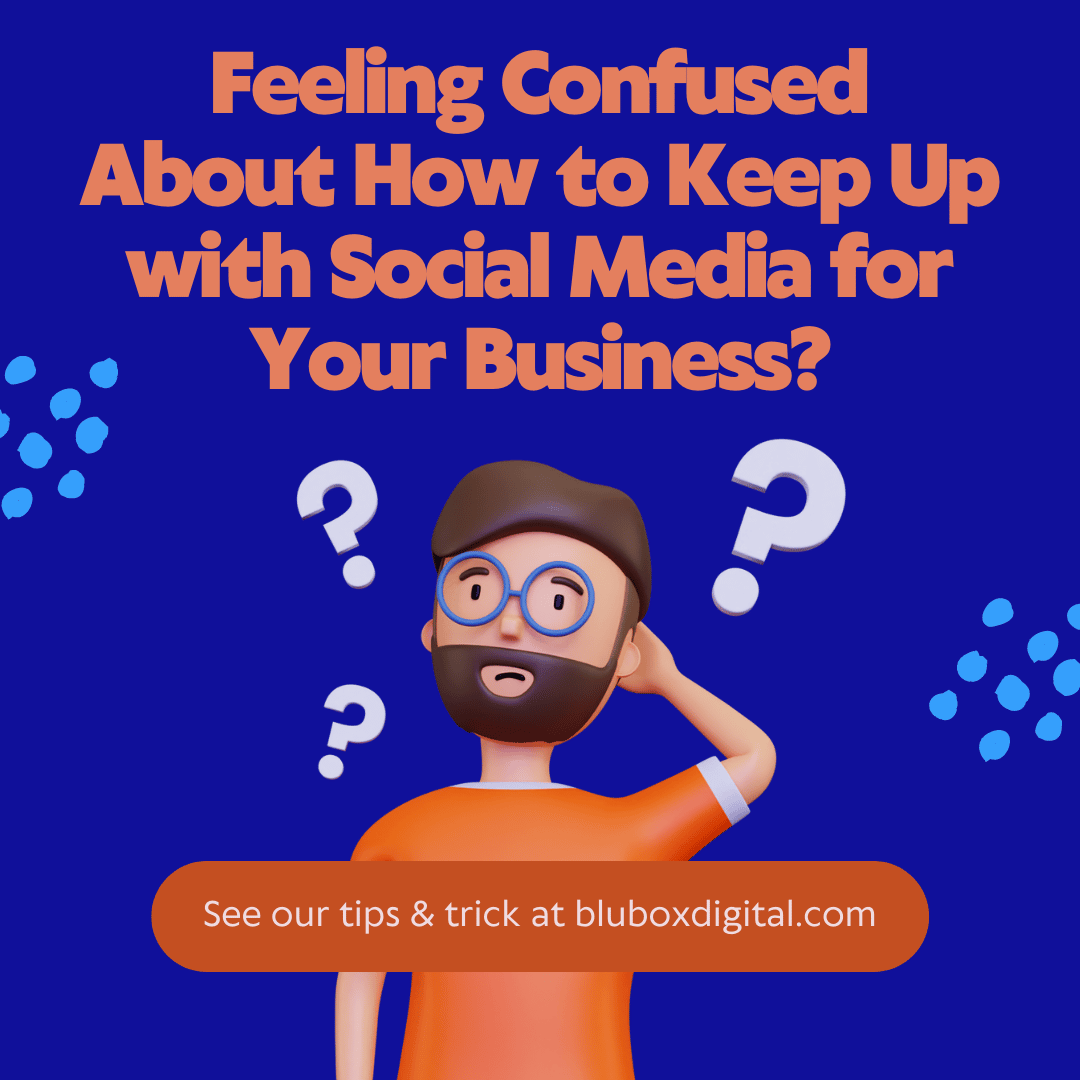 Virtual Cathy Academy Biz Booster Pack
($12) Contributed by: Cathy Baillargeon
Starting ANY kind of business is stressful. Whether you want to provide virtual assisting services for supplemental income or this is a serious career path you're looking to create, entrepreneurs need to prioritize this one thing when starting: Foundation.
BUILD and DESIGN your VA business the way you want using the VA Biz Booster Pack. These fillable forms can be updated as you continue defining and refining your business!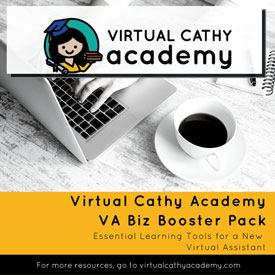 Teach Online from Your Own WordPress Website: A LifterLMS Guide
($497) Contributed by: Gina Decker
If you are a VA who wants to train yourself or your team to build and manage online courses for your clients or perhaps you have training that you want to deliver to sell your online courses, this course will save you time and money trying to piece together millions of YouTube videos that don't really connect the dots. This course offers step-by-step, up-to-date videos that give you the exact "how-to" details. It makes a big difference in the speed of your course launch if you choose simple systems like the LifterLMS WordPress plugin. You want something that will grow with you and your business, and something that is not too complicated to learn. You want to save your time and energy for the things you love to do.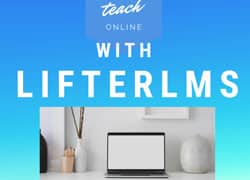 Over $2,500 in premium training tools that you can start implementing right away!
5 Reasons You Should GO VIP…
VIP PERK #1: 20 Video Recordings
20 Video Recordings to each webinar to watch on your own timeline that you'll have access to for a full year! We know how busy life can get and trying to attend all 20 webinars live over the 5-day period can be hard to schedule That's why we've put together all the recordings so you can learn whenever you want. Or go back, stop and pause the video and implement what you learn at your own pace.
VIP PERK #2: Printable Speaker Notes
Printable Speaker Notes to save your hand from cramping up taking notes all week. We suggest you print them all out and put them into a binder to follow along with each webinar.
VIP PERK #3: VAVS Group Coaching Strategy Call ($97)
VAVS Group Coaching Strategy Call with VA Coach Tawnya Sutherland after the Summit to help you implement what you've learned. Join other attendees to network together, get answers to any questions you have, and share your ideas PLUS get help putting a game plan to find more clients in place.
VIP PERK #4: SWAG BAG ($2,500+ Value)
What would a summit be without some SWAG? I approached a bunch of my business colleagues for some business swag for our VIP attendees. These are full-sized premium courses and tools individually sold on each contributor's website and specifically of interest to Virtual Assistants and freelancers working from home.
Here's the DRAW DATES:
October 7th: 
2 – Virtual Assistant Career Kickstart Package ($897)
October 14th: 
2 – Yearly VAinsider Membership ($970)
October 21st:
1- Virtual Assistant Career Kickstart Package ($897)
1 – Yearly VAinsider Membership ($970)
October 28th: 
1 – Sponsor: Savvy Social School Membership One Year ($499)
I'm super stoked to host the 22nd season of my Virtual Assistant Virtuosos Summit. My specialty is helping Virtual Assistants grow their businesses. I've been putting my heart and soul into this for close to twenty years because I care about helping freelancers make a good living from their hard-earned skills. Thousands of VAs have attended #VAVS over the years to learn how to find and retain clients.
So if ever there was a perfect time to put a solid business foundation under your skills as a service provider, it's now.
So treat yourself. You deserve the best! Go grab the VIP Ticket for ONLY $97 and enjoy all the VIP perks above.
See You at #VAVS!
Your Host,
Tawnya Sutherland