Are Coaches Your Target Market?
If so, I'd like to introduce to you another awesome speaker I have lined up for you at our #VAVS Virtual Assistant Online Conference held May 24-26th as you will want to be on her webinar next week.
If you haven't got your ticket yet you can learn more about the event by clicking here.
Our THEME is: Finding and Retaining Clients in Your Virtual Assistant Business. AND at only $37 to attend LIVE online, to learn from 12 Expert Speakers who are ready to teach you on this topic, well, simply stated… you won't want to miss this popular training event! 😉

Let me introduce a dear friend of mine, Nicole Dean, who will be speaking on:
How to Become Indispensable to your Clients by Helping them to Become Rock-Star Business Coaches
If you've got (or want) clients that are Business Coaches, then you need to know a few things. First, they will invest heavily in great help, especially if their business is growing. So, if you can help them to turn their 1 to 1 business into a hugely profitable business with multiple income streams that are bringing in income around the clock, you will quickly become indispensable to them. (Hint. Many of the tips that you'll learn in this you can also apply to your OWN business to add more income streams, too.)
I love when Nicole speaks to my network as she really knows how to pump VAs up and get them motivated to push their business forward. Working with coaches is an awesome target market because they are truly gems to work for, I should know I work for many of them. Not only do they appreciate the value of a VA and pay well, they are always creating new products which means more service work for you.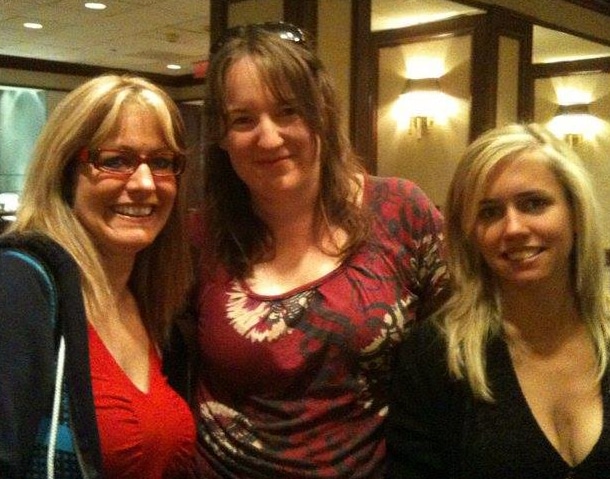 Nicole and I were trying to figure out when we first met to give you a bit of history about us. We know it was at a conference but we've been to so many together now we can't recall which one. The joys of getting older and trying to remember dates. Our Facebook friends says we were friends since 2009 so we are going with that although we think it was a year before that because of dates on pictures we both have. LOL!
Here's a pic of us at the NAMS conference in Atlanta. Nicole is in the middle and my daughter is to the right. I was tempted to cut my daughter Danielle out as her beauty is stealing our limelight but figured I'd keep her in. HA! (Danielle is my main Proactive VA and she will be helping me co-host #VAVS and hopefully I'll find a day to introduce her to you as well).
Nicole and I have got to know each other well (we both love red wine, enough said LOL) at conferences, networking online, having girl chat on the phone and we've even partnered together awhile back and created a passive business. Nicole is my go-to person when it comes to anything to do with my coaching clients as she knows exactly what coaches want and need. Love you Nicole and so glad you are speaking with us this #VAVS, thanks!
Nicole Dean is a Business Awesomization Expert has been helping people just like you earn passive income for over 10 years. She is an Author, Coach, Speaker, and heckuva great person to know. Check out her website here 
Hopefully you are as excited about our speaker line up this #VAVS to help you find and retain clients in your service based business as I am and I hope to see you there.
If you missed my FREE Webinar last week you'll want to watch it to get an idea of what attending #VAVS is like. Plus you'll learn about virtual assistance and the tools we use everyday in our business. CLICK HERE to WATCH FR-EE Webinar
Hopefully I'll see you next week!
To Your Virtual $uccess,



Tawnya Sutherland, CIMBS
Founder of VAnetworking.com
*The Market Leader For Virtual Assistants Worldwide*