Did you ever guess who the speaker was that Lisa and I were having dinner with that I blurred out of the picture last week?
Well it was Felicia Slattery, (Lisa Well's client at the time) and she who will also be speaking with us at our #VAVS Virtual Assistant Online Conference held May 24-26th.
If you haven't got your ticket yet you can learn more about the event by clicking here.

At only $37 to attend LIVE online, to learn from 12 Expert Speakers who are ready to teach you how to find and retain clients in your VA business, well, simply stated… you won't want to miss this popular training event! 😉
Let me tell you a bit about Felicia Slattery…
See that bubbly friendly smile in the photo above? I don't know how Felicia does it but every time I've met her at various conferences across North America she always has this big beautiful smile happening that is contagious! 🙂 Her fun, upbeat, energetic personality fills whatever room she's in with positive energy and it's simply amazing!
I first met Felicia at an VA Conference when all eyes turned attentively to the center stage as she walked out as our Keynote Speaker.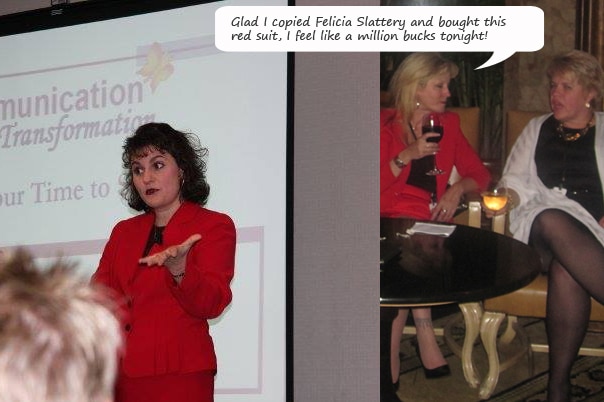 Felicia was like a magnet and our eyes were metal! It was hard to take your eyes off her up on that speaker podium as she looked remarkably successful in her professional red suit.
She definitely knows how to walk the talk as a speaker onstage and her presentation was awesome to boot leaving the stage with a standing ovation!
All I knew was that I wanted to be a speaker just like Felicia so she definitely left a huge impression on me . That very week when I got home from the conference I bought myself a red suit to wear at my next speaking presentation. It's amazing what wearing a good suit can do to boost one's confidence LOL! Thanks Felicia for wearing that red suit as it changed my attitude speaking in public and I'll be forever grateful. 😉
What will Felicia Slattery be speaking about at #VAVS?
How to Attract and Serve Professional Speakers So You Become an Indispensable Asset to Them for YEARS
Professional speakers represent one of the best niches for VAs because they NEED your HELP! How does Felicia Slattery know? Because she is not only a professional speaker herself, she is the Amazon #1 best-selling author of "21 Ways to Make Money Speaking," so she teaches other speakers and experts how to run a business.
During this fun and interactive session, you'll discover what it takes to find speaking clients, the tools your need and more including:
The top 3 places to find speakers to be clients and what to say and do to get them to RUSH to hire you NOW

The top 3 skills your new speaker clients need you to have

The top 3 tools you need to succeed and make yourself so indispensable your clients will think you're reading their minds
Felicia Slattery trains experts, entrepreneurs, CEOs and celebrities around the world to help them write and deliver speeches and content that communicate with people on a human level and get results. Check out her website here.
ONLY a FEW DAYS LEFT to get your ticket to #VAVS to help you find and retain clients in your service based business in 2016!
Congrats to Zynique Pate who has won our next Early Bird Draw which was a yearly membership to VAinsiders.com
We have one more Early Bird draw for all ticket holders to win and that is access to my Virtual Assistant Career Training Program (valued at $997). Good LUCK!
To Your Virtual $uccess,



Tawnya Sutherland, CIMBS
Founder of VAnetworking.com
*The Market Leader For Virtual Assistants Worldwide*